Play backgammon online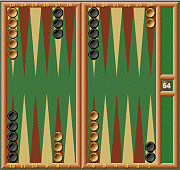 Backgammon games and tournaments are played with other opponents worldwide through Internet.
Backgammon is a game of luck and skill. It is played by two people with 15 checkers each on a board consisting of 24 spaces or points. Backgammon is played so that you move your checkers in the direction from your opponent's home board to your home board. The checkers are moved according to rolls of the dice. Each player tries to bring his own checkers home and bear them off before his opponent does, hitting and blocking the enemy checkers along the way.
see also Backgammon articles:

Detailed Backgammon Rules and How to Play Backgammon
Backgammon Internet Tournaments
Install Free Backgammon for Android

Play backgammon online, have fun and win cash prize
To play:
1) Press 'Play backgammon online' now
2) Select 'Main Hall' link to enter playing room
See Backgammon screenshots (in a new window) 75% of actual size
We ask you to login to play Backgammon - you can play for free or for money if you buy playing tickets and win head-to-head tournament in Backgammon. In head-to-head tournaments (a game for stake) you play against other players. The winner takes all. Read more about cash games If you are a new player just invent your user name, password and start playing.


Analyse your games with Interactive Backgammon Board - in a new window - GAMMONLAB Window

... or try other games

[gin-rummy] [cribbage] [dominoes] [backgammon] [chess] [checkers] [canasta] [pool 8-ball] [pool 9-ball] [RPS] [spades] [solitaire] [freecell] [rush-21] [poker-rush] [lines-collapse] [pharaoh's treasure] [mahjongg] [pool-rush] [aqua-rush] [darts] [buckman] [tri-peaks] [pyramid-13]

play now! Rubl.com home rules forum links cash games news contact us