Play Mahjong Solitaire online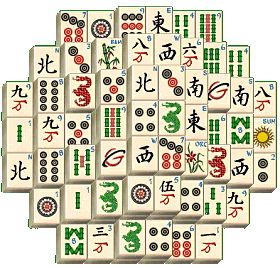 The object of Mahjong solitaire is to clear the playing area of tiles by matching pairs of tiles. Players can remove only those matching pairs of tiles where each tile has at least one side (left or right) free and no other tiles placed on top. Matching tile pairs can be removed by clicking on each tile in the pair.
There are a total of 72 pairs in a game of MahJong Solitaire. The tiles have standard suits. These suits are Characters, Bamboos, Circles, Dragons, Winds, Seasons. When matching pairs, Seasons and Flowers are the only suits you do not need to match exactly. Reshuffle button can be used when no moves are available. A maximum of 5 reshuffles per game is allowed.
You can play online internet game Mahjong Solitaire and win money prizes.
see also Mahjong Solitaire articles:
Detailed Mahjong Solitaire Rules, Strategy Tips and How to Play Mahjong solitaire online
How to play Mahjong Solitaire tournaments online at Rubl.com Games
Play Mahjong online, have fun and win cash prize
To play:
1) Press 'Play Mahjong online' now
2) Then press 'Play now' button to enter playing room
See Mahjong screenshots (in a new window)
We ask you to login to play Mahjong Solitaire - if you get high score while playing any game you can win Arcade Tournament in Mahjong Solitaire and Cash-Prize Pot. In Arcade-style tournaments you play and compete against other players. A player who gets the highest score in a Tournament wins and gets Cash-Prize Pot! If you are a new player just invent your user name, password and start playing.
... or try other games
[gin-rummy] [cribbage] [dominoes] [backgammon] [chess] [checkers] [canasta] [pool 8-ball] [pool 9-ball] [RPS] [spades] [solitaire] [freecell] [rush-21] [poker-rush] [lines-collapse] [pharaoh's treasure] [mahjongg] [pool-rush] [aqua-rush] [darts] [buckman] [tri-peaks] [pyramid-13]
play now! Rubl.com home rules forum links cash games news contact us
---
Mahjong resources:
Best of Chinese Culture