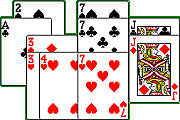 You can play a regular gin-rummy, gin only game and oklahoma gin online. Gin-Rummy card games and tournaments are played against other opponents worldwide in internet.
Gin Rummy is a card game for two people. It is played with a standard 52-card pack of playing cards. Aces are played only as low; the ranking from low-to-high is A-2-3-4-5-6-7-8-9-10-J-Q-K. The cards have values as follows: Face cards (K,Q,J) 10 points, Ace 1 point, Number cards are worth their value.
The object of the game is to form "melds" which consist of three or four cards of the same rank called "set" or "group", or "sequences" (or "runs"), which are three or more cards of consecutive rank in the same suit. A second objective is to reduce the count of the unmatched cards in a player's hand to less than the count of his opponent and the summary value of these unmatched cards. A game consists of a series of hands, and it ends when a player accumulates 100 or more points. Then, the final scores are calculated and the player with the higher score is the winner.
You can select from 100 to 500 point games, play live tournaments etc.
New! Gin Rummy HTML5 game to play in browser online for all platforms - desktop, android, apple, win phone - phones and tablets. See more Gin Rummy HTML5 game
To play Gin Rummy on iPhone, iPad or on Android login and select "green app" or "blue app" in the Rummy playing room list. HTML5 game allows you to play without installation.
see also Gin-Rummy articles to understand how to play Gin-Rummy better, game rules, strategies and tactics for the different variations, to get playing tips and win in gin game: