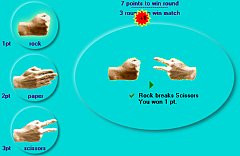 RPS game is not so simple game as it looks on the first glance. But its rules are really simple. The game obviously becomes more nuanced as you dive further into, but if you want to get playing right away you only need know the following:
Rock wins against Scissors,
Scissors wins against Paper
Paper wins against Rock

There are 2 different game variations or Rock Paper Scissors at Rubl.com, the classic one 1-1-1, that gives you 1 point for every win with Rock Paper or Scissors and the new strategic (default) variation 1-2-3, there point values for winning with Rock is 1, for winning with Paper is 2 and for winning with Scissors is 3.
You can select from 3 to 15 points to win a round and from 1 to 7 rounds to win game. If you select, for example 3 round game you have to win 3 rounds to win the whole game (so, the maximal number of rounds will be 5).
Here you can play RPS game against opponent in internet for free or for money.
Play RPS online - Rock Paper Scissors, have fun and win cash prize
We ask you to
login
to play Rock Paper Scissors - you can play for free or for money if you buy
playing tickets
and
win
head-to-head tournament in RPS. In head-to-head tournaments (a game for stake) you play against other players. The winner takes all.
Read more about cash games
If you are a new player just invent your user name, password and start playing.