Online multiplayer games:


gin-rummy

cribbage

dominoes

backgammon

chess

checkers

canasta

pool 8-ball

pool 9-ball

RPS

spades
Online single player arcade and card games:


Solitaire

FreeCell

Rush-21

Poker-Rush

Lines-Collapse

Pharaoh's Treasure

Mahjong

Pool-Rush

Aqua-Rush
Darts

Buckman

Tri-Peaks

Pyramid-13
---
Featured Games: Canasta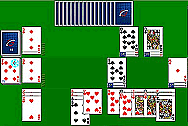 Two-player Canasta
is a card game for two players. It is played with two standard 52 card packs plus four jokers (two from each pack), 108 cards in all. The object of the game is to score points by melding cards. A valid meld consists of three or more cards of the same rank. Wild cards (jokers and twos) can be used in melds. Every meld must contain at least two natural cards, the number of wild cards should not exceed the number of natural card and be less or equal to 3. A meld of seven cards is called a canasta. If all of the cards in it are natural, it is called a natural canasta (500 points), if it includes one or more wild cards it is called a mixed canasta (300 points). Each turn is begun by either drawing the top card from the face-down stock (draw deck) or taking the whole of the discard pile. If you wish, you can meld after drawing, the turn ends by discarding a card to discard pile. To go out and thus to end play you should have one or two canastas among melds after melding all of your cards.

How to link to our site
If you would like to link to our site please use any of the following text link or graphic links. Copy and paste the text below selected link type. If you prefer graphic links, it's better to copy image to you "images" directory before and to change the corresponding URL, for example, instead of IMG SRC="//www.rubl.com/banners/rubl88x31b.gif" it will look like IMG SRC="http://www.yousitename.com/yourimagedirectory/rubl88x31b.gif.
Thank you!
Text Link: Rubl.com online games - Play games: gin-rummy, backgammon, cribbage, canasta, solitaire, mahjong and other. Improve your skills and win money in tournaments!

Image Link:
Rubl.com - classic card and board games.

Image Link:

Rubl.com - classic card and board games.