Introducing Backgammon game to play in browser - for all platforms - desktop, android, apple. HTML5 backgammon game to play with other players online. You can play the same game on almost all devices.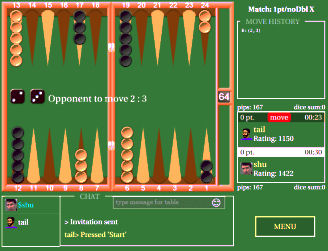 Let us introduce the new Backgammon HTML5 game client to play the same backgammon game online on our servers. Now you can play a browser game on any computer platform, including Windows desktops, Apple devices, such as Apple computers or iPhone and iPad, Android phones and tablets and also Windows mobile devices. You can play backgammon even on your TV if it is connected to Internet. The same login used for all the games. This new client can be used to play free and money games and to join tournaments.
You play backgammon inside your browser without any additional installations. Only internet connection is required. We plan to add more games on the same HTML5 technology very soon. Try it now and enjoy the game. To move backgammon on phones and tablets just double-press or drag the required checker over the screen by your finger, on desktops - click or double click or drag a card by a mouse.
Backgammon game can now be played using 3 different backgammon apps:
With 'Blue App' selected, subsequent selection of "Main Hall" will show backgammon in blue-and-white and traditional non-patterned colours for backgammon tables
With 'Green App' selected, subsequent selection of "Main Hall" will show backgammon on modern patterned green background.
With "Java" selected, subsequent selection of "Main Hall" will show an old-style Java applet for backgammon that will work only if Java is installed correctly from http://www.java.com