Do you know, that Microsoft Zone (MS Zone) has discontinued its online Cribbage this June? But if you like this game you can play cribbage online at rubl.com. For those who are new to Rubl.com multi-player games we publish a help picture - how to start cribbage games.
This help picture can be used also for new Gin-Rummy, Backgammon, Canasta, Dominoes, Chess and Checkers players.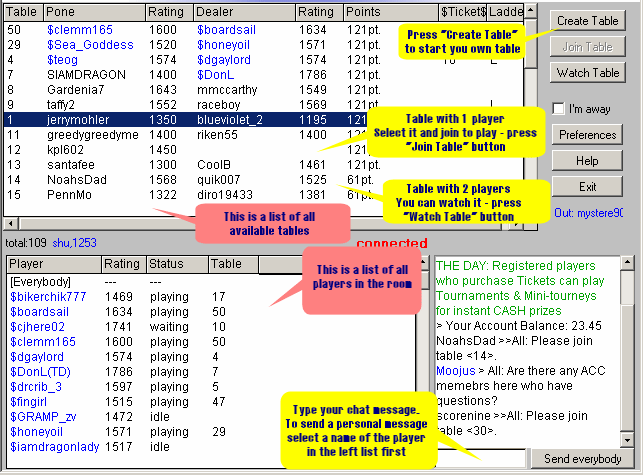 There are two main lists in the lobby of each gaming room - here for example is a Cribbage Main Hall room. The topmost list shows all available cribbage tables. Some of them have already both players and can be only watched (though money games cannot be watched) - select this row and press "Watch Table" or double-click on this row. Tables, that has the only player - Dealer or Pone are open for you to join - select this row and press "Join Table" or double-click on this row. If you want to create your own table just press "Create Table" button, accept default options or select your own and press "ok" in the new Options dialog. This way your table will appear in the list and other players can join it to play.
The left bottom list shows all players in the cribbage room. Money players are shown in the blue color with the "$" sign before their names. This list is also used for personal messages - if you want to send a chat message to a certain player just select his or her name from this list, type your message in the chat field (right-bottom) and press "Send" button
Go to Cribbage page, select "play cribbage online" enter your name and password and then press "Main Hall" link from Cribbage room page.